WHAT OUR CUSTOMERS SAY ABOUT US...
We know the service we offer is special, but don't just take our word for it. Here are a sample of some of the kind messages we have had from our customers.
Clare and Paul,
Thank you both so much for our wedding rings, your professional friendly service made us feel extremely comfortable.
The time you took to listen to what we wanted, explanation of the materials we could have and meeting stages to check we were happy before the making of our rings made the experience very personal and special.
The rings are exquisite and unique to us, we couldn't ask for anything more.
I'd like to thank you for the stunning cuff links you beautifully designed and made to commemorate the 5th anniversary of my husband's company.
I would recommend your company to anyone looking to have any bespoke jewellery made, you took time to listen to my requirements and provided me with ideas & designs that we worked with to achieve a beautiful end product.
Thank you Clare.
Dear Clare and all at Varoshe,
Just a small note to say thanks for all your hard work in making our ring.
I came to you with little idea really of what I wanted, just with an idea of budget and of a deadline, and you were able to meet both, which helped alleviate a lot of stress. I can easily imagine the whole situation getting a bit tense, but there really was no danger of that.
Thank you so, so much for all your help in making this possible; thank you for always being so prompt to respond when I was worried; and thank you for the beautiful ring. Needless to say she said yes!
Clare and Paul, I just wanted to say that I wear my bracelet every day and love looking at Isabella's tiny finger prints on the charms. I have told all my friends about Varoshe and we will be back again next time we want a special creation.
When I asked Paul and Clare to design a matching necklace and earrings set for a special occasion, I wasn't sure exactly what I wanted. They were both really friendly and very patient, listening to my ideas, and interpreting them beautifully. I now have something totally unique which always attracts attention when I wear it.
Thank you both!
Well, luckily the lady said yes after all of our collaboration. I'm over the moon. I'm also happy to report that she seems truly delighted with the ring, she loves the style of it and has commented on how it is just the right amount of fancy while still being understated, which I think might have been one of the first things I discussed with you. So a big tick there.
She also loves the fact that I had it made and was involved in designing it.
Thank you so much for helping out so much. You made everything super easy and steered me in the right direction while also making me feel like I was in control of everything at the same time. The process, the delivery, the finished product and the way you dealt with me were all very professional, first-class!
I'm so happy to have had your help throughout this process, you made what could have been an extremely stressful decision and process, a really simple and enjoyable experience.
Simply stunning. A massive thanks to Clare and Paul from Varoshe for these bobby dazzlers for our wedding last Saturday. taking an idea in our heads and creating something truly special xx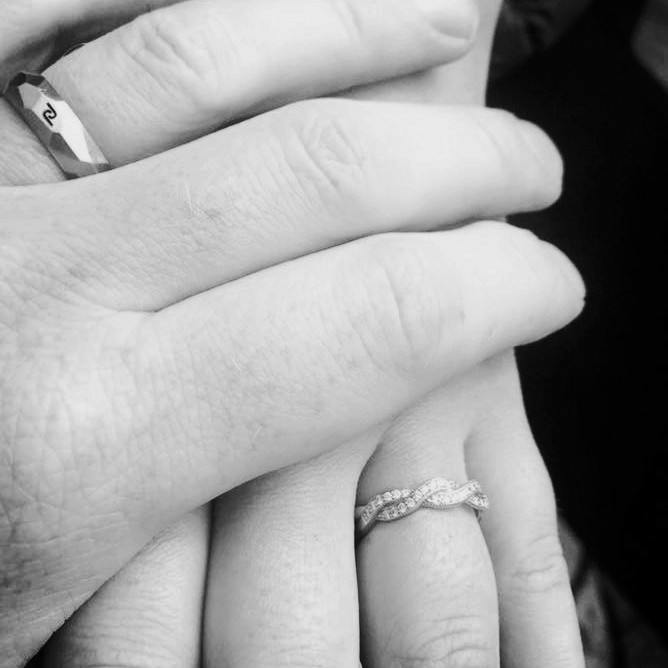 I have just got home and presented it without looking and.........!
It is amazing!!!! She absolutely loves it and it fits perfectly - such a lovely piece of jewellery.
Thank you both so much! If I ever need anything or hear of anyone after anything I will give them your details.
Thank you Paul and Clare for creating such a special pendant. A piece that is as beautiful as the bride and reminds us of the love of a very special Mum and Nana.
~
It's the most beautiful necklace in the world, and I was blessed to have my Nana so close to my heart on my wedding day.