OUR DESIGNERS
At Varoshe we believe that jewellery should always tell a story. Whether it is the memories and sentiment that we pour in to our most precious pieces, or simply the stories of the people who make it, each piece has a tale to tell.
As well as our own collections we also showcase the work of other independent designer/makers, whose stories are as unique as their jewellery.
If you are looking for a specific piece made by one of our designers then please contact us to check availability.
Click on the thumbnails below to jump to the individual designers or scroll down to browse through them all...
Alice is an award-winning jewellery designer and maker. She draws complex beauty from the simplest of forms to make elegant, contemporary jewellery with meticulous attention to detail. Her work is influenced by the cuts, folds and repetition used in paper art, and draws on lines, angles and repetitive shapes for inspiration.
Emulating stiff pleated fabric, shards of reflective glass and folded paper, the Pleated Collection has an Art Deco like quality with a contemporary edge. Each jewellery design has been meticulously hand carved from jewellers wax, cast in precious metals and satin finished to give a soft, subtle sheen.
The paper like quality of Alice's work make them a great gift for your first wedding anniversary, which is (you've guess it) paper!
Anne is a well established, award winning jeweller, based in South Wales. Her work explores the relationship of look and feel in the materials she uses, especially silver's potential for texture.
Anne's specialism in her jewellery is to use a technique called reticulation, in which the surface of the metal is melted and then manipulated with the movement of the flame. The technique gives a soft finish to Anne's work and means that each piece that she creates is completely unique as the metal will never move the same way twice.
Cara designs beautiful, elegant and bold jewellery for stylish and strong-minded women. Her work marries classic and contemporary design to create unique, timeless pieces. It is jewellery that comes to life when worn, intricate, playful and tactile yet expressing glamour and elegance.
Cara is a lover of the Art Nouveau and Art Deco movements and is a believer in the philosophy of Art Nouveau: that art should be a way of life. The stylized and symbolic organic forms of Art Nouveau and the streamlined, sculptural and decadent aspects of Art Deco provide endless inspiration.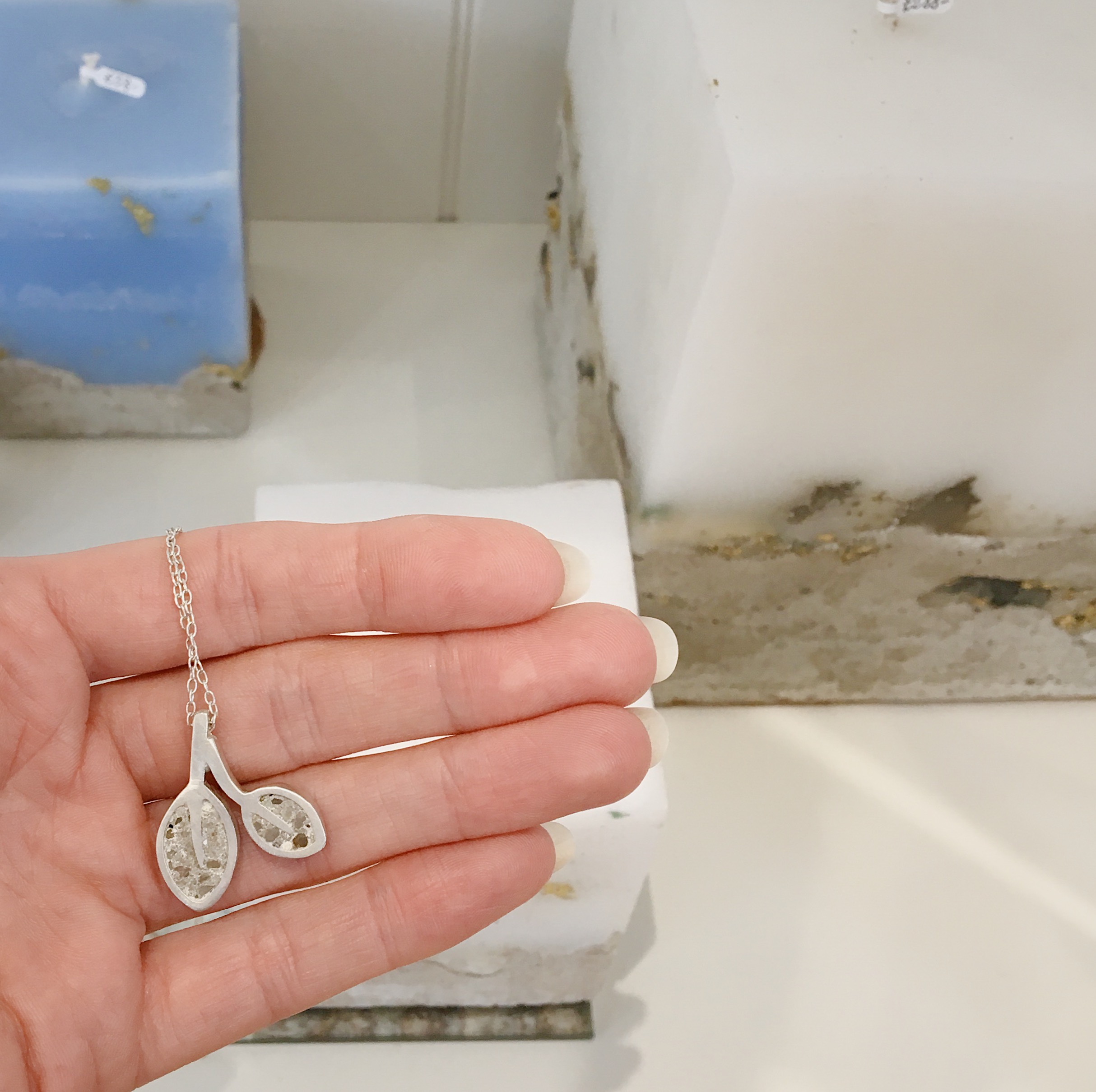 Andrew Chambers first started using concrete in his jewellery after seeing a tiny leaf which had pushed its way through the pavement, outside the Barbican in London. The moment obviously stirred something in Andrew's design talents because just a short while longer Chambers Concrete was born.

Andrew has an incredibly beautiful and unique style, and his mix of concrete and silver gives an unexpected softness to his work.

After creating his concrete jewellery ranges, Andrew progressed on to making concrete candles, which we also stock at Varoshe. These come in a variety of colours and sizes, perfect to compliment any home.
Claire's jewellery focuses on the use of three colours to create a selective palette. She mixes matt and oxisided silver with white, grey and mustard-yellow resin to create striking, statement pieces which have a real sense of fun. Her use of layering and organic leaf shapes give her work a soft femininity, which contrasts beautifully with the solid, block colours of the resin.
Her collections develop through the making process, allowing the designs to grow and progress. She hand forms all of the pieces, before adding the resin, which is cast in her handmade moulds.
Jack's work is exquisitely feminine and easy to wear. Her use of repeating floral patterns is very distinctive, and gives a lovely twist on a classic style.

Jacks' jewellery is predominantly made in silver with 18 carat yellow gold elements. She uses a variety of gemstones in her work, including green sapphires, pearls, diamonds, blue topaz and even green amethyst!
Jack's combination of conventional goldsmithing and stone setting techniques coupled with the latest in computer-aided design technology creates a distinctly modern style that compliments both the contemporary and the traditional.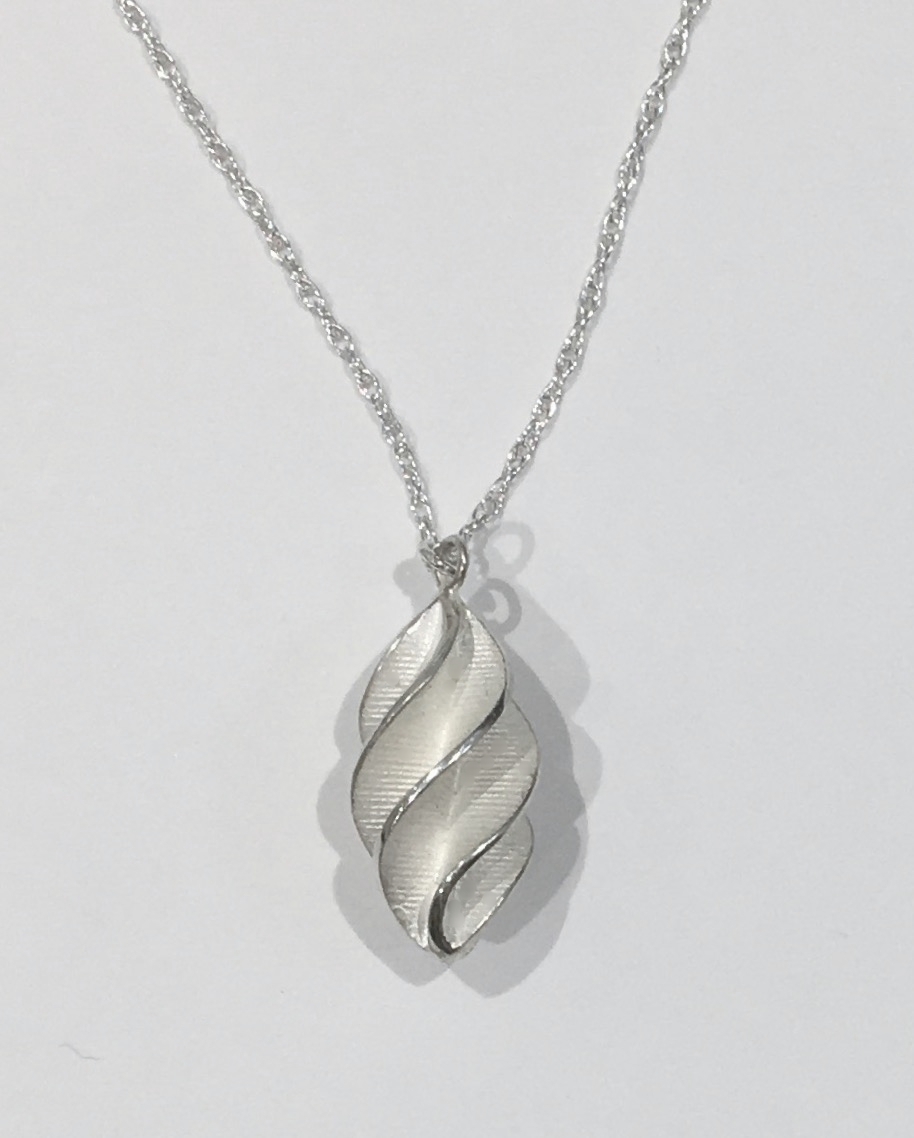 Katherine's work is beautifully graceful with its soft curves and contrasting finishes. She takes her inspiration from architectural forms where simple patterns form the basis of her designs.
Exploring the use of CAD, Katherine often encorporates rapid-prototyped elements within her collections to achieve simple yet elegant forms.
Award winning designer, John Moore, creates his distinctive designs from dyed, anodised aluminium in combination with steel, silver and silicone, combining traditional craft skills with modern processes. With his unconventional approach to jewellery, John selects materials because of their unique properties. What matters is what works for the piece.
Like the feathers and other natural forms that inspire John, his work has an engineered yet delicate quality. Simple shapes are refined and carefully constructed into jewellery pieces that are lightweight, extremely wearable and charged with positivity.
Love, laughter, and London. Matthew Calvin is one of London's most exciting young jewellery designers. Named by the Evening Standard as a go-to name for modern, minimalist designs, Matthew is obsessed with style and precision.
Matthew's delicate designs make his jewellery beautifully easy to wear. His simple and modern style, packaged in his distinctive glass bottles, make his jewellery the perfect gift for a loved one (or yourself)!
(We love to support our designers and it is always nice to know that the feeling is mutual. In June 2019 we were asked to be featured in Matthew Calvin's blog 'The Edit', which you can read here.)
Monique's designs are predominantly made from sterling silver with gold and gold leaf details. She also uses stones, such as garnet, jasper, topaz and labradorite which add another dimension to her exquisite work.
Her current Moorland Collection explores the imbalance and incongruity of the large granite rocks found on Bodmin Moor in Cornwall. Her designs address their toppling shapes, and factures that have occurred over thousands of years.
Many of her brooches and pendants have secret locket compartments on the reverse – small little doors to open. Inside these doors you'll find a small cavity in gold coloured leaf that can hold tiny notes or a photograph of a loved one. Her Moorland Collection includes brooches, necklaces, rings, cufflinks, pendants and earrings.
Paul uses a variety of innovative techniques to create distinctive ranges of jewellery, characterized by elegance and simplicity. He has a love of strong form with few embellishments, preferring to contrast colour and texture into organic flowing designs that are both durable and comfortable to wear.
Paul creates sculptural pieces in silver, which he sets with blue topaz and diamonds. His work is often highlighted with beads of 18 carat gold or finished with a 22 carat yellow gold plating, which gives an instant richness to his designs.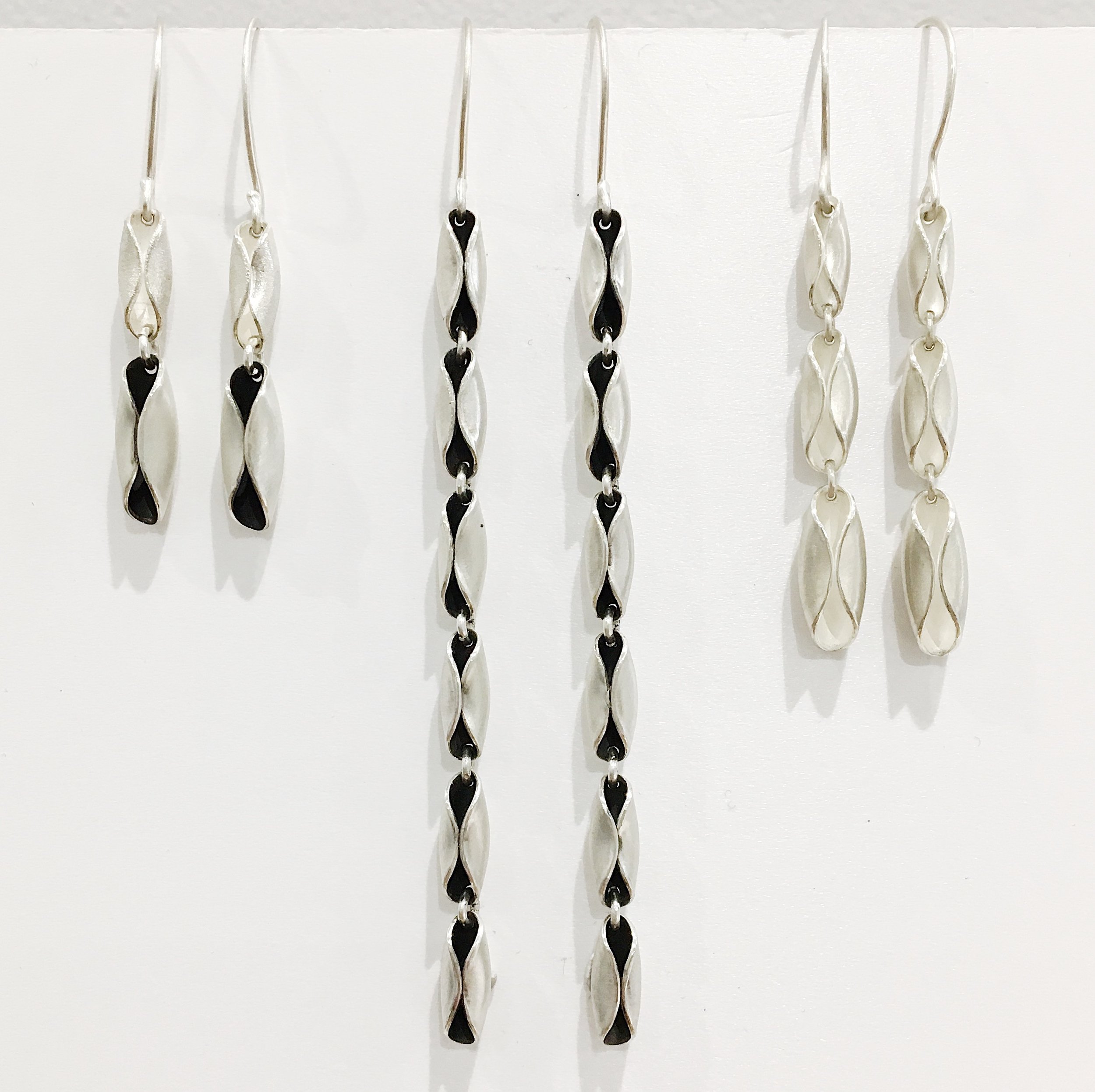 Rebecca works with precious metals and stones to create abstractions of the natural world she sees around her. Her work is delicate and feminine, and often incorporates bold colour contrasts with her use of layering matte silver with oxidised silver.
Rebecca's background is in textiles, which can clearly be seen throughout her work. Her jewellery is often designed with a strong theme of pattern and decoration, building up surfaces much as you would embellish a piece of fabric.
Ruth Hollywood is an award winning contemporary jeweller, specialising in vibrant, geometric jewellery made from recycled silver and brightly coloured resin. Originally from Scotland, she is now based in the Drôme Provincial in the South of France.
Whilst her inspiration changes from collection to collection, Ruth's main influences are science, architecture and modern art. Colour theory and grid formations are continuing themes from which she develops her shapes. Her work is beautifully uniform and is bound to appeal to lovers of structure and geometry.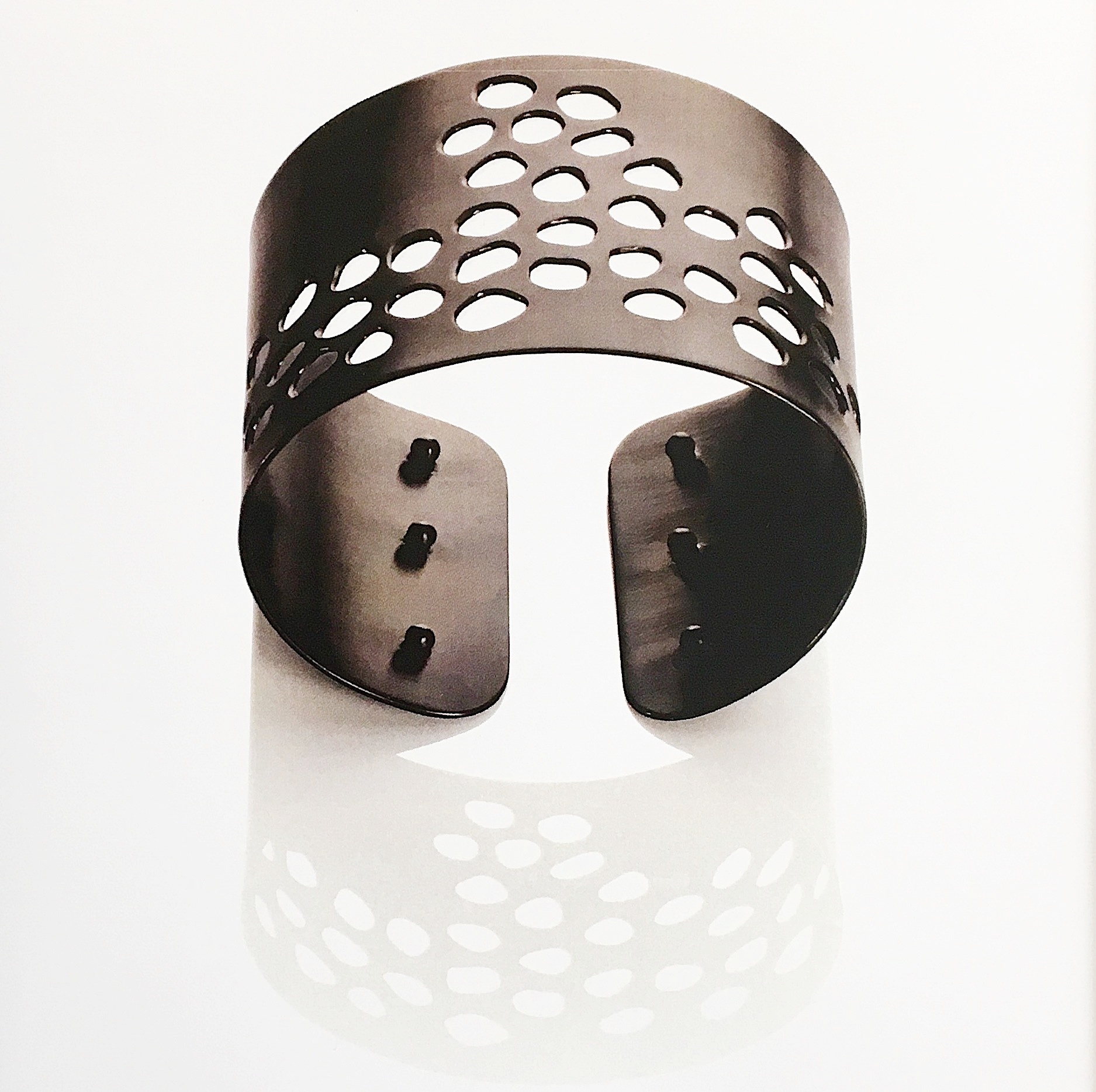 Sonya's work is beautifully edgy, with it's organic pierced shapes and subtle use of colour. Her Lava Collection uses gold powder introduced into enamel to create a translucent effect that is light and easy to wear.
Her work is predominantly made from silver with various coloured platings , such as yellow gold and black rhodium, to create strong statement pieces which are sure to become favourites in anyone's jewellery collection.
Suzanne Claire's work is influenced by her love of needle craft. From her beautifully fluid French knitted bracelets, to her delicately textured stud earrings, her work is wonderfully wearable.
Her collection includes tiny wire studs as well as larger statement necklaces. As each piece is hand made, and textured by the threads she uses in her knitting, no two are the same.
Suzanne Claire's work is made from sterling silver and is also available in an oxidised (blackened) finish, for that extra bit of drama!
"My love for all things colourful and craft orientated blossomed during early childhood from observing two generations of women. I was inspired as a child, from my Mum, her Mum, my Great Auntie and my Nana. It was these same people who shaped my love of what today seems to be lost arts – sewing, knitting and other needle crafts."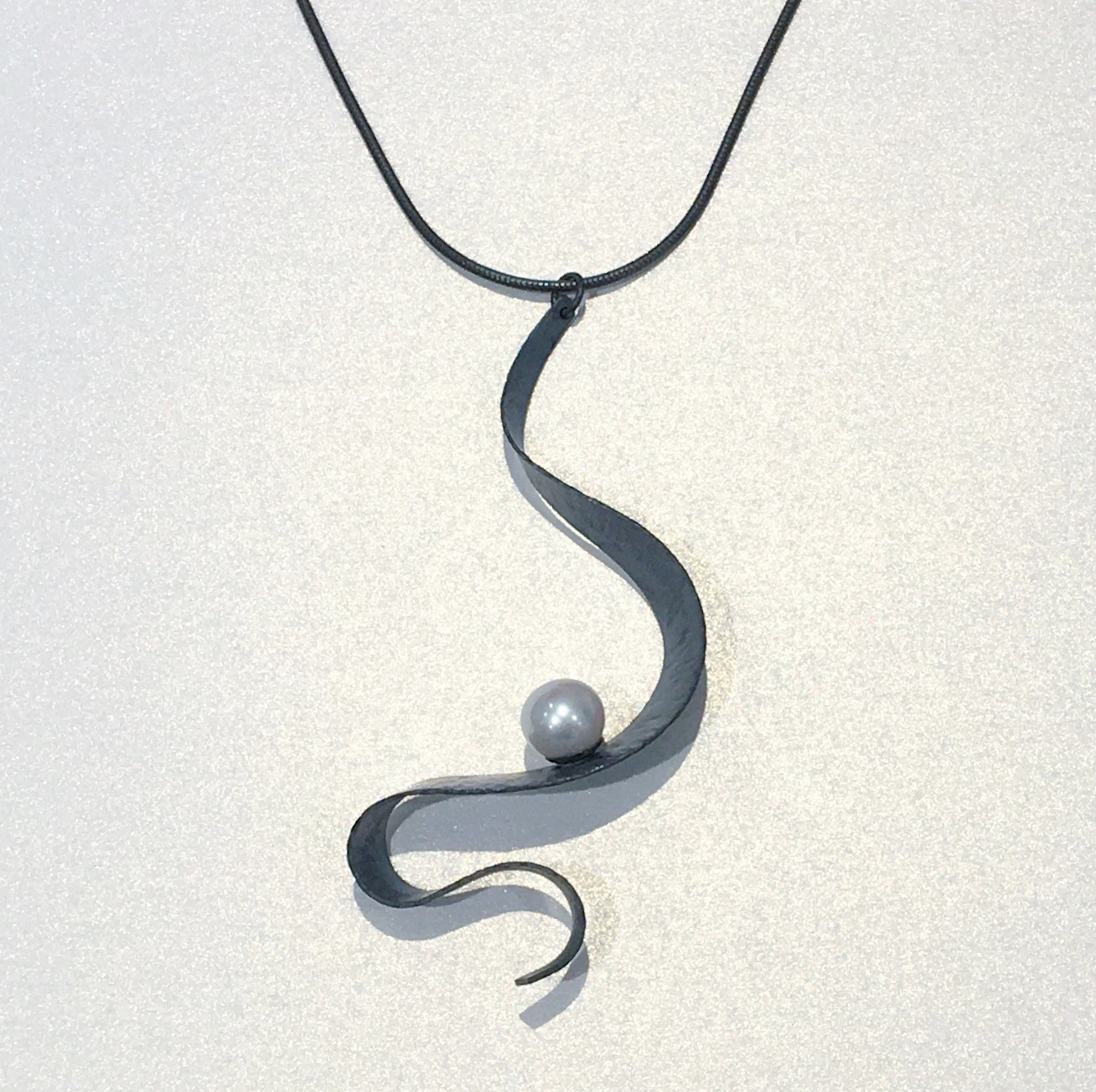 Victoria creates beautifully fluid, organic forms from precious metal. Her designs are often embellished with coloured foils, oxidisation, gold plating or pearls which bring an extra dimension to her work.
Her use of asymmetric design within her earring ranges gives a unique twist on a classic piece of jewellery.
"My pieces are wearable sculptural forms characterised by simple lines and fluid curves, each individually handcrafted from silver using a mixture of contemporary techniques."
looking for a specific piece of jewellery from one of our designers?
please contact us to check availability.